FILCAO is a small family-run business based in the small Northern Italian town of Settimo Torinese, near Turin, in the industrial North-West of the Country.
Settimo is known as the Janesville of Italy: since the early 1920's, it has been the center for the production of writing instruments in Southern Europe; even today, it is the operating base of pen giant "Universal", a company that produces 20 million ball points per DAY (!) and is second only to BIC in the number of pens sold throughout the world.
Many pen manufacturers were active in Settimo before the second world war: great companies like "Williamson of Turin" and "Original Goldmichel" or smaller manufacturers like "Welcome", "Alba", "CISEA", "Stilo Everest", "Perfection", "Toujours" and many more. The pens they made varied from exquisite, as in the case of the celluloid Williamson pens of the thirties and forties, to practical, non-nonsense and inexpensive school pens. And, of course, everyone produced copies of the Aurora 88 in the early fifties, after the great success of that pen in the Italian market.
Today, there are still manufacturers of pen parts and small workshops where metal and plastic components are made, as well as specialized plating and finishing shops.
FILCAO started manufacturing fountain pens in the late 1960s. The company is still run by its founder, Francesco Grisolia, who loves and collects pens and can still be seen, at times, working the lathes, fashioning a new prototype pen out of a rod of cured celluloid.
The current product lineup is vast: over 40 different pen models, in metal, celluloid or acrylic resin. In addition to fountain pens, there are mechanical pencils, roller ball pens and ballpoint pens.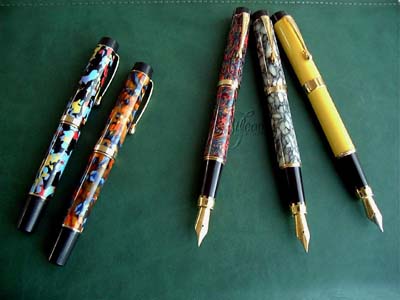 The flagship fountain pen product is called the "1918 Leader".
This pen was clearly inspired by the Parker Duofold and has the classic flat-top shape of the 1920's, pre-streamline classic. It is roughly the same size as the Centennial model, and it comes in a variety of materials and finishes.
There is a version in stainless steel, that looks very sharp and should last a lifetime. It is rather on the heavy side and is best used with the cap unposted. It is available in two levels of trim: stainless-steel and chrome, selling for a very reasonable price of $55 (!!) and a model in stainless steel with gold trim that sells for $60. I have to say that these prices are due, in part, to the fact that the US Dollar exchange rate is at an all-time high and the company is passing the savings on to its US customers, rather than pocketing the increased profit margins
There are also two enameled versions: one Mandarin yellow and one Big Red, selling for $75. Beautiful pens that can be used on a daily basis without undue sorrow in case of loss or damage. My favorites, however, are the celluloids! These come in various colors and have some unusual and unique celluloid patterns.
FILCAO have access to the manufacturers of premium Italian celluloid and, in fact, often get the early batches of new patterns and colors. All celluloid rods are cured for a year in controlled-temperature and humidity storage rooms, before being machined and transformed into beautiful pens. All machining and lathe work is done at low speed, to avoid losing the transparency of the material. All stress points in the pen are reinforced with brass inserts for durability.
Colors and patterns vary with availability: the current lineup includes a transparent orange celluloid with blue speckles, a classic cracked-ice black and pearl, which produces a very stylish and conservative fountain pen, a green-red-blue speckled material designed by the fashion-house of Missoni and a striking multi colored Harlequin pattern on black. These are beautiful pens and very smooth writers and sell for only $100.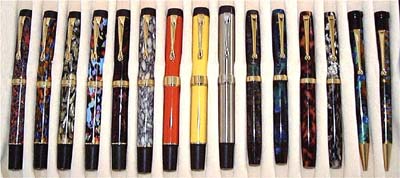 The nib units on all these pens are made by Bock in Germany and are individually selected for smoothness, with attentive quality control. They come in a single standard width, which lays a wet Med-Fine line. Gold nibs and special nib sizes can be special-ordered at additional cost and require about two weeks for delivery to the U.S. from the warehouse in Italy.
Another great looking pen is the Model 88 - "Nuova Verbana".
This classic slim design was inspired by the slim celluloid pens made by Verbana in the 40s and 50s. It is the only pen in production in the world that really resembles the everyday pens of my youth.
These pens are made of translucent celluloid in Blue with modernistic speckles (I call it the Mirò pattern) or translucent green (a material that looks like the OMAS Lucens celluloid from the 40s). There are also non translucent celluloid variants in Tiger Tail and Marbled black and pearl (the same exact celluloid used for an LE pen by a "famous German manufacturer"...). These pens are also available in Dinkie-size (I call them Corgi size) and carry a retail price of only $80. The nibs are smaller than those used in the 1918 Leader model and are made by Schmidt in Germany. They are constructed of gold plated steel and have a very old-fashioned look, with a plain black section, perfectly in character with the overall look of the pen. The caps are threaded and the pens will take an international-size cartridge, but not a converter (unless you have a short, squeeze-type converter).
FILCAO also manufactures a very successful line of mini fountain pens, which are sold throughout Europe and have been very popular among pen collectors in Europe and the Middle East. They come in two basic models: the Ladybug and the Classica.
The Ladybug is available in three different versions, depending on the material used for its construction: the basic pen is offered in enameled metal. The variants being imported into the U.S. are the more valuable versions made in celluloid and silver . The pens have incredibly tiny gold plated nibs, iridium-tipped and they are filled via a rubber bulb accessible from the bottom of the pen body. They are sold in presentation boxes, with a bottle of blue ink.
The Classica is even smaller and resembles a tiny Duofold, with its colored enameled metal body and black end caps. It also fills via a rubber bulb and comes with a bottle of color-coordinated ink. It is difficult to visualize the tiny size of these pens unless you can actually hold them in your hand.
Since we cannot review all 40-plus models of FILCAO pens, we'll conclude this brief article with a mention of the Micro Pen, also known as the Hummingbird. This is a lapel pin, less than an inch in length, in gold plated brass with hand enameled cap and it really writes, since it houses an equally microscopic, but fully functional ballpoint refill!
All FILCAO models are in stock and enquiries from individuals or dealers are welcome. This is the first new line of pens introduced into the U.S. from Italy in some years and we hope that the combination of great styling, sound manufacturing and outstanding value for money will meet with the approval of American pen users.