In 1940, the newly organized Eversharp Pen Company engaged industrial designer Henry Dreyfuss (1904-1972) to create an all-new pen design. Dreyfuss drew heavily from prior works, especially the streamlined New York Central Railroad locomotive, the Twentieth Century Limited.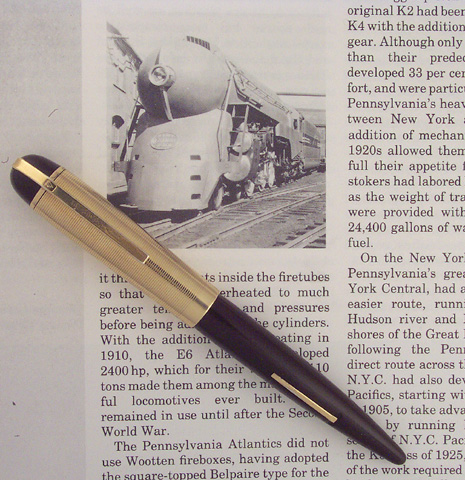 Eversharp Skyline Brown Gold Filled Radial Engraved Cap c1943-1948 With Photo of 20th Century Limited
The new Skyline pen, introduced in 1941, was a dramatic shift away from the Art Deco designs Wahl Eversharp relied on in the 1930s, and a leap forward into the streamlined and aviation inspired designs that we fast coming in vogue. The new pen line proved to be a huge success, with over eleven million Skylines sold from 1941 through 1949, making it the largest selling pen of the early 1940s and the largest seller ever for Eversharp.
The Skyline is a conventional lever filler with a radical streamlined design, a Dreyfuss hallmark. The design may look very top heavy when capped, especially on the smallest models, but becomes very well balanced posted. The over the top clip design made the pen eligible for sale to the military, as it places the pen quite low in the pocket. Skylines have no date codes, so the only real dating method is based on the section. Pens with visulated sections will be from the first two years production, with the feature dropped quickly afterward. Even this is only precise enough to call a pen early or late, as wartime production was very low and parts could have been used later.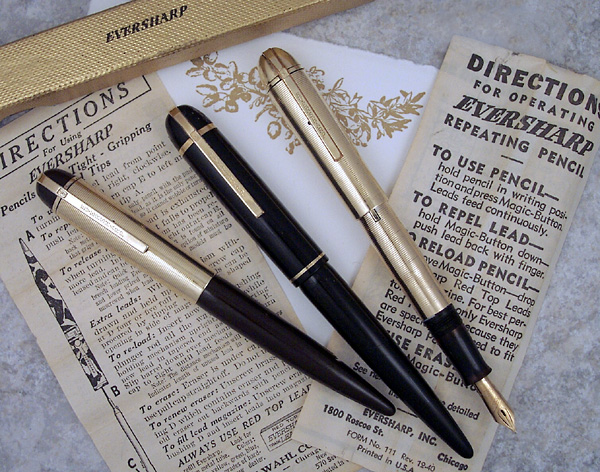 Eversharp Skyline In Three Sizes
Left to Right: Standard / Executive / Demi
There are essentially five kinds of Skylines in three sizes, Demi or Lady, Standard, and Executive, which are about 4 3/4 inches, 5 1/4 inches, and 5 1/2 inches long, respectively, and a vast array of color and trim variations. One collector commented to me that he was sure he counted over three hundred combinations, including possible mismatches. There are models made with all solid plastic cap and barrel, striped celluloid cap and solid barrel, all striped celluloid cap and barrel, metal cap and solid barrel, and all metal cap and barrel. A double check mark on the clip indicates the pen carried the Eversharp lifetime warranty. All models had matching repeater pencils. Skylines were offered in a wide price range, from low-cost all-plastic pens to all solid 14 karat gold models: pens from US $5.00 to $75.00, pencils from US $2.00 to $50.00, and pen and pencil sets from US $8.75 to $125.00. An ill-fated ballpoint model was also made.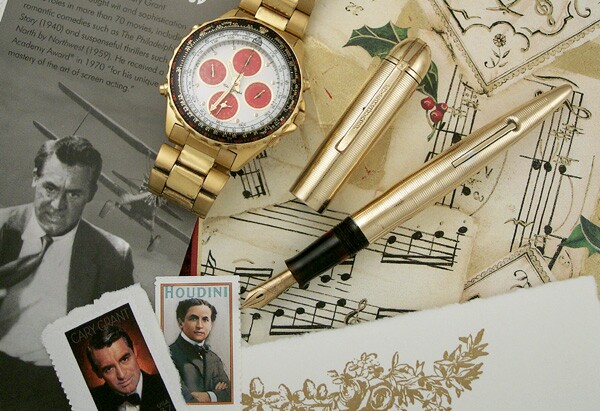 Eversharp Skyline Gold Award Vermeil c1941-1942
There are rare variants that are marked "Wahl" on the clip and a "W" instead of the double checkmark. These were made so Eversharp could protect the Wahl name.
The Skyline was a huge success for Eversharp, eventually becoming, by 1945, the best selling pen in the USA. Skylines faded from Eversharp advertising after 1945 in favor of other models such as the Fifth Avenue, but was produced until 1948, when the Symphony was introduced.
A Nib For Every User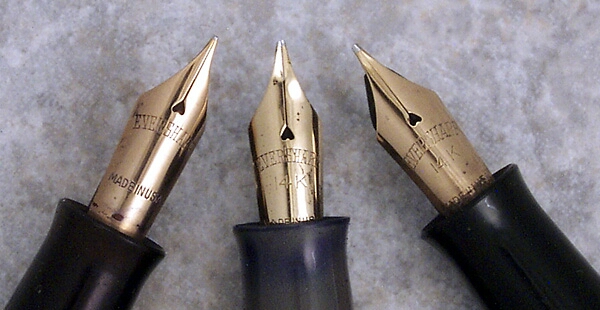 A Set Of Nibs From Solid Color And Modern Stripe Demi Skylines
Note The Heart Shape Breather Holes
Wahl had always offered an array of silky smooth nibs, and the Skyline was no exception. Nibs were offered in a full range from extra fine to broad, from Manifold to flexible, and in at least three sizes, to match the Demi, standard, and Executive size pens. Though available in a wide range of styles and flexibility, they generally aren't marked with size or flexibility.
Interesting to me is the variation in designs in Skyline nibs, which can also be found on late Pacemakers and on the following Symphony line. Inexpensive models will be typically fitted with a short, plain nib, with "EVERSHARP" stamped in a curve below the breather hole, which is usually heart shaped. "14K" will be stamped centered and "MADE IN USA" stamped at the base. I've seen a few examples of nibs without the 14 karat mark, but they don't appear to be plated.
A Banner Of A Nib
The higher line pens are usually fitted with the more elaborate "banner" style nib. This style has "Eversharp" stamped at a diagonal across the nib under an elongated hexagonal breather hole, with "14K" above "MADE IN USA" stamped near the base. The nib then has a design including at least one diagonal line parallel to the Eversharp name, giving it a banner look. I've encountered three design variations of this style of nib.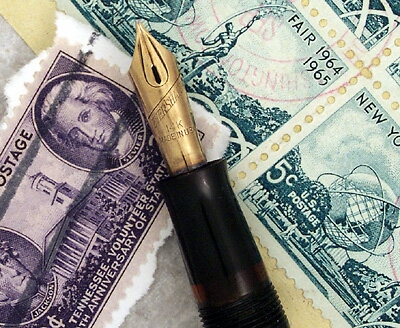 Early "Teardrop" Stamped Nib With Diagonal Single Line Banner
Mounted On An All Vermeil Command Performance
On early higher line models with visulated sections, there is a "Teardrop" stamped from the ends of the tines and around the breather hole and a single diagonal banner line above the Eversharp name. The eye is drawn strongly to the teardrop, and if the intent was to emphasize the name, it's too strong. As a whole, it has a lot of eye appeal, and I look for early pens with this nib. Some sources speculate that this nib is a design holdover from the adjustable nibs of the 1930s. To me, this is the most interesting of the three designs.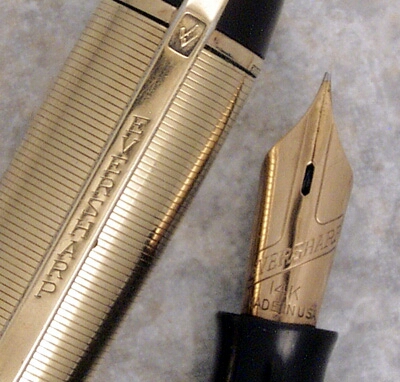 Later "T" Shaped Banner Nib
Mounted On A Brown Barrel / Gold Filled Radial Engraved Cap Skyline
The second variation is an inverted "T" shaped banner that boxes in the logo and the nib slit. This design also makes the Eversharp name the centerpiece of the nib, but adds a sense of movement with the top line splitting and shooting outward to the point of the nib. It's more visually dramatic than the other two versions and more unified than the teardrop style. It's my second choice, but a strong second. There are examples of this nib in a very attractive two-tone full platinum or palladium mask, with the "T" banner left in gold.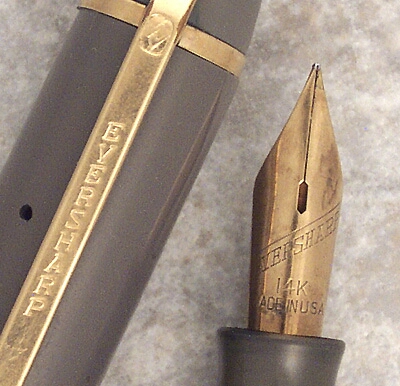 Later Diagonal Single Line Banner Nib With Plain Tines
Mounted On An All Gray Plastic Skyline
A third design, that appears to have come later is a simplified version of the first, omitting the teardrop stamping. This design makes the Eversharp name the centerpiece of the nib. It's a classic look, but definitely looks plain next to the other two designs. This style is also carried forward well into the 1950s and can be seen on the Symphony and early Ventura models.
From Very Firm To Very Flexible - How To Tell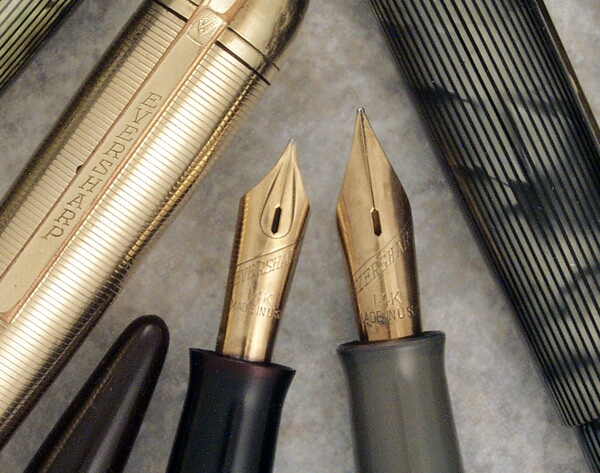 A Side By Side Shot Of A Firm Skyline Nib (Left) And A Flexible Nib (Right)
Many collectors actively seek flexible nibs. They are prized for their soft touch on paper or their expressive line variation. By the 1940s, flexible nibs were on the way out, with users favoring pens with nibs stiff enough to write through carbons, a common requirement in business offices of the times, before the advent of the photocopier. Parker and Sheaffer, the market leaders, proudly led this shift, with the new Parker 51 and Sheaffer Triumph being advertised often as firm, but smooth writers. Flexible Triumph nibs are rare indeed, and virtually unheard of on Parker 51s.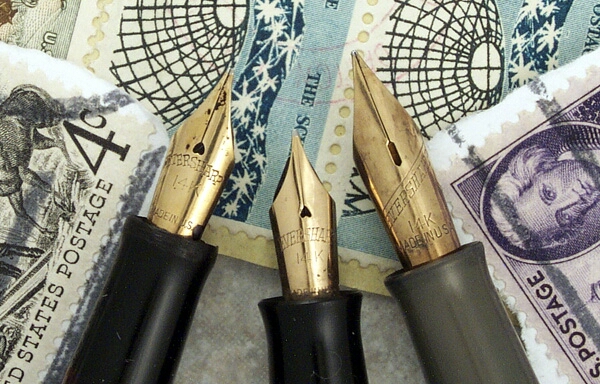 Three Flexible Skyline Nibs From (Left to Right) Blunt Barrel "First Year" / Demi / Standard Size Pens
Though not common, Skylines with flexible nibs aren't especially difficult to find, and the premium is not steep. I've picked up Skylines as parts pens with flexible nibs on them. Since Eversharp nibs are rarely marked by type or size, so checking the shape of the nib helps identify what it is. The final call is done hands-on, but you can get an idea if the nib is flexible visually, even in a photo. Some Manifold and Flexible nibs will be marked above the "MADE IN USA" line on plain nibs.
Firm and Manifold nibs will have high shoulders, with the three points of the tip to the two edges being close together and almost forming an isoscoles triangle. The tines, therefore, will be short. Flexible nibs have a more teardrop shape, with longer tines coming to a much more pronounced point. The shoulders will be lower, and closer to the center of the nib. On paper, a flexible nib should have a lot of give and the tines should spread apart easily without a lot of downward pressure. If the nib feels soft, but the tines don't spread a lot, then the nib is a semi-flex. The "normal" nib is stiff, with a little give, and the Manifold, is, well, capable of marking pilot holes for your drill.
Choices, Choices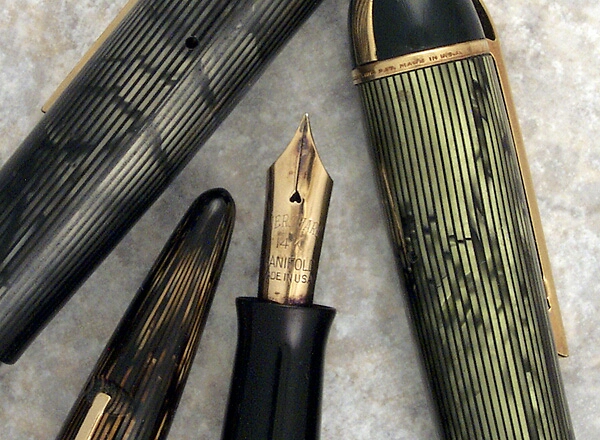 Eversharp Skyline Manifold Nib
Mounted On A Gray Modern Stripe Skyline
If you want a great writing vintage pen with a variety of interesting nibs that won't break your budget, the Eversharp Skyline should be on your list. The design, as with many things, is always going to be a matter of taste, but I've found the pen's design has a tendency to grow on you with use. There is a great variety of color and material combinations, many of which are not budget breakers, which will keep your collecting appetite busy for a long time. I still have the first gray Modern Stripe Skyline I bought, one of my early vintage pen purchases, and it gets out quite a bit. I never see anything like it in the hands of people I work with. Write with one every day, and it will sneak into your rotation. Write with a flexible, expressive Skyline and it may not leave your hand!
Comments on this article may be sent to Jim Mamoulides