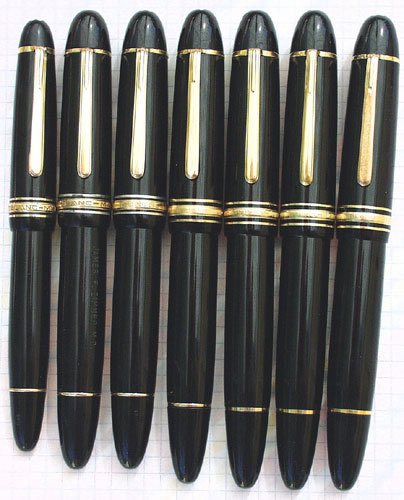 Full view of Montblanc 149s
Vintage and less vintage I don't have any 90's vintage 149's
These range from 1952 to about '90, they only come in black
l to r
1. circa 1952 celluloid
2. circa '59 celluloid
3. early 60's
4 & 5 mid 70's to early 80's
6. about '90


Same line up but with a vintage 146 first in line to show the size difference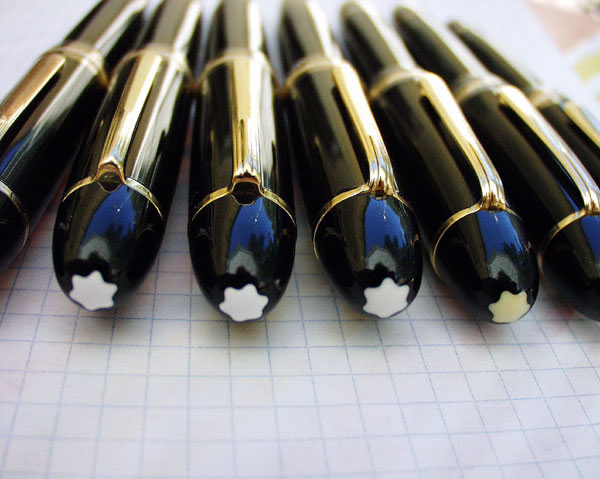 The stars
I just like this shot, you can see the yellowing on the early celluloid star

Filler knobs
The 50's celluloid pens have the model heat stamped on the filler knob, I have yet to see one with the nib style stamped and I believe it's because in the day if you bought one of these the nib of your choice was fitted for you. I think this allowed the store to keep a smaller inventory of expensive pens on hand. Also note the gold band near the filler, early pens have a rounded band and even into the 60's this is true, after about 1972 the band is flat and wide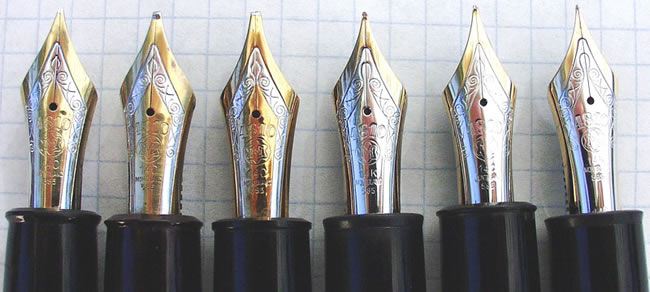 The Nibs
The nibs differed, the earliest were 3 tone with the gold/silver/gold and in the later 60's the two tone nibs were produced.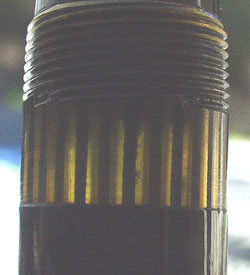 Ink window
Almost all aged celluloid pens will have some ambering in the ink window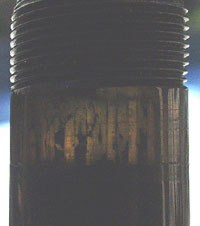 Ink window
This one shows how the black stripes wear on the early pens
Later resin ink window
The resin pens always seem to have nice clear windows

Filler threads
This is one of the best ways to break down the main era of your pen,
The first pens made from 1952 to 1959 have a telescoping filler and when the knob is back you can see white colored metal, in the 60's to the late 70's you see a black plastic area there. About 1990 the part is made of brass and they're still made that way today.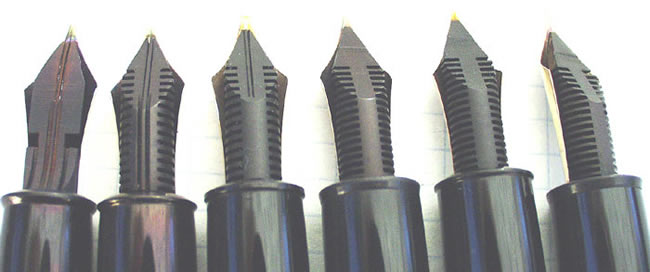 The feeds
The first feeds were flat with grooves, mid 50's to late 50's are rounded with full length grooves, 60's is rounded with grooves only on the sloping face of the rounded feed, 70's on have no grooves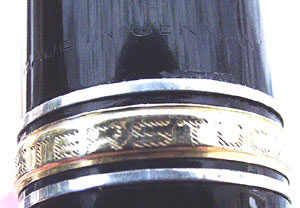 Cap band imprint
Early export pens have a very tiny MADE IN GERMANY stamped in them, this '59 model is stamped on the cap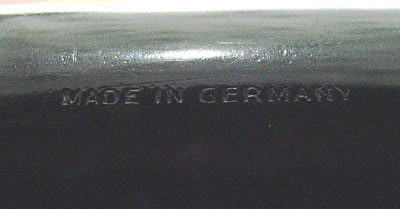 Barrel imprint
the circa 1952 PENS have this imprint on the barrel

Top cap ring
60's and 70's just have GERMANY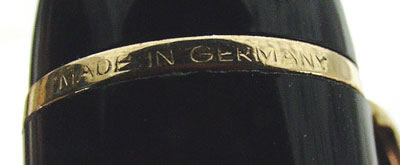 Top cap ring
From 1980's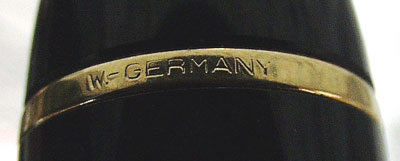 Top cap ring
This one is made about '90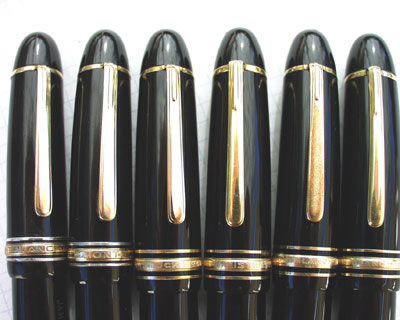 Cap clips
The clips are probably the least reliable way to date a 149. Early 149s have a short hump in the middle of the clip, later ones have a longer hump and the newest have the short hump again, also as you can see there are about as many different stampings as there are pens
Final text
There you go, just about everything I know about MB 149's.
Most of the info I have about specific dates or era's came from the great Barry Gabay article in the December '02/January 03 and Feb/Mar 03 issues of Pen World magazine. Some of my observations are a little different but that is what I have found on my pens. I tend to think of them as celluloid then early plastic and later plastic with the brass filler. Beyond that it really doesn't matter much as all of them are great writers. You really have to try a BB flex nib to really get a feel for what made these early pens stand out and shine in the ball point era.
Thanks for looking.
lex