Oh Baby! Va Va Va Voom ...What a Dish!
Are we talking about those big fin 1958 classic cars or pens?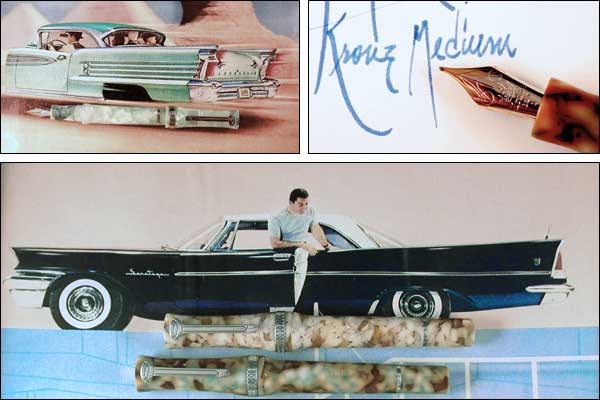 Daddy-O is a cool new collection from Krone that is reminiscent of my mother's 1960 kitchen linoleum floor and the curvaceous design elements of that time. This was the first time I was able to recall great looking and genuine fake marble and stone laid into plastics. Who would think 40 years later this would return? Leave it to Krone, bringing back a true original of our time....well, some of ours anyway.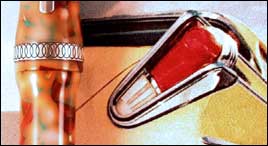 The Heavy Metal at this time was chrome. Lots of chrome. Found on huge Cadillac and Chrysler tail fins, magnum bullet bumpers and enough reflection to blind you from the sun. Coming out of the late 1950's one would think there would have been a world-wide shortage of chrome and blame it on Detroit. Designs gradually started to slim down and there was a return to smooth modern streamline, natural shapes, colors and materials in consumer goods. One of which was shag carpets, a product I'd really like to forget because I actually had to rake this thing once a week.
We still had the tail fins, but "Oh...so modern and sleek." We saw lots of edges, "V" grooves and bug eyed tail lights. My '63 Chevy could not possibly have been more cool, with my '58 Chevy a really close second.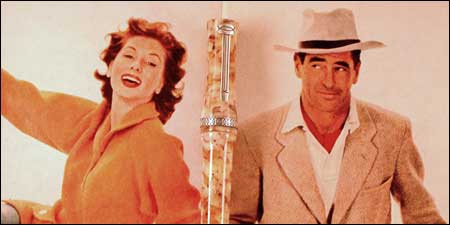 You bet, my mother's 1960 celery and teal linoleum was considered a natural precious resin.
So barely 15 years after the splash of new "PLASTICS" for household product use, the 1960's was a new era, it was the right time for bubbling Lava lamps and a new kitsch of colorful plastics such as genuine fake resins simulating natural materials.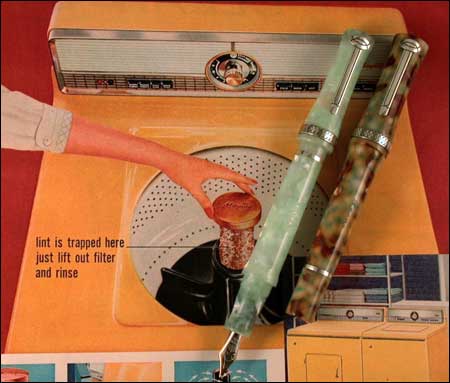 ...and her Maytag washer and dryer was my first Mandarin experience.
Daddy-O pens by Krone are Italian made resins with solid sterling silver trim. The sleek slim waist style looks odd and hard to imagine how this would feel in my hand. But I soon realized this is just an optical illusion. It is really not that odd as my hand and finger configuration places my forefinger tip just past the thread on the section so I really do not feel the step from barrel to section. It is a smooth and comfortable feel, if I closed my eyes, I would not even imagine the unusual shape interferes with my natural grip. Light weight at just 1 ounce, the 5" barrel with cap tapers to a respectable _ " diameter and _" at the cap lip. The nib is terrific, a beautiful signature two-tone 18K gold and pretty responsive.
Krone is not jumping on the new hype for super flexible nibs, but these nibs can have the attitude with slight pressure that perform pretty well for me. The clips are extremely strong, no problem here falling out of the pocket into your new Maytag. I think this is an appearance you have to see to appreciate, it's retro and campy, the colors are subtle yet brilliant and it's also a fun fashion pen. The feeds are ebonite and fountain pens feature a compression-filling system.
MSRP Fountain pens $375. Rollerball $325. Nibs are available in F M and B and all are piston fillers. Matching Rollerballs available also.
Va Va Va Voom is cream, khaki and teal, the most natural stone appearance of the series.
What-A-Dish is celery green color and almost but not quite transparent.
Oh Baby! is cream, tan and shards of violet.
Krone "Daddy-O" pens are available from Fountain Pen Hospital, www.fountainpenhospital.com
© 2004 Len Provisor.