I flew into Birmingham International Airport for the Writing Equipment Society Birmingham meeting which took place over a full day on Sunday 24th Feb. Alan Hobbs from WES kindly collected me from the airport (and got me back safely).
The day was divided into two sessions, a presentation on British "own-brand" pens in the morning at the Royal Birmingham Society of Artists, Gallery 4 and a tour of the BPTHA (Birmingham Pen Trade Heritage Association) Pen Room, with an informal trading session in between.
The morning session was presented by Steve Hull and gave an insight into the practice of vintage manufacturers such as Conway Stewart, Mabie Todd and De La Rue producing runs for wholesalers and retailers without the normal manufacturer's markings. These ranged from pens branded with, for example, large department store names to versions carried by stationery shops which sold for far less than the identical "branded " model. One reason for the latter was to keep the factories producing in times of low demand while still allowing the original ranges to be sold at premium prices. It didn't stop there however - many manufacturers sub-contracted the making of parts to other manufacturing firms, with the result that it is in effect almost impossible to attribute a manufacturer to some of these "no-name" pens with any degree of accuracy. To highlight the complexity of the issue, Steve brought along in excess of 150 examples, mostly stylos/ink pencils which are his particular area of interest. Side by side it was clear that identical pens were produced with different or no markings or imprints, however the fact that a clip bore the name Conway Stewart didn't guarantee that is was necessarily a CS pen. Some appear to have been "manufactured" by independent small pen firms, while yet others advertised such goods as sugar, stationery or engineering products. Many were fine examples of hard rubber finishes (or Vulcanite as I now understand the correct terminology is in Britain) with ripple or mottled patterns. Steve also exhibited some examples of "advertising" pencils which followed the same pattern. The confusion in terms of identifying these collectables is compounded by the fact that the boxes and papers could also carry different branding or model names.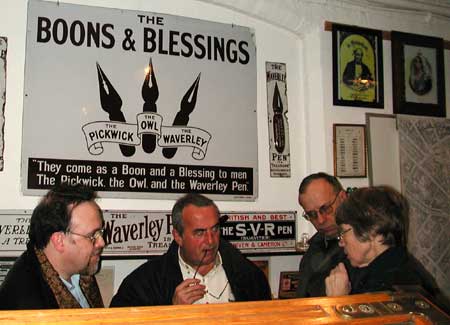 L-R: Graham Hogg,Steve Hull,Jeremy Collingridge and Maureen Greenland.
Some of the forty or so attendees brought along examples from their own collections for possible identification, but as Steve reiterated - it was a matter of educated guessing rather than scientific certainty.
In the afternoon, the group assembled at the Pen Room in the Argent Centre for a guided tour, conducted by Brian Jones, Secretary of the Birmingham Pen Trade Heritage Association.
The Pen Room was officially opened last year in April and is situated in the Jewellery Quarter of the city. The pen trade in Birmingham (specifically the manufacture of steel nibs) was a thriving industry from the eighteen hundreds to the nineteen fifties, when competition from the ballpoint pen led to it's decline. The scale of the industry was immense, with over one hundred companies producing at the peak some 1,500,000,000 steel pens annually in 100,000 varities, mostly hand pressed and finished. Today only two of the original pen manufacturers survive - British Pens and Leonardt.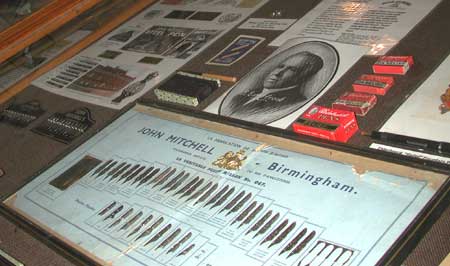 one of the display cabinets at the Pen Room
The Pen Room itself is dominated by huge brass bound oak display cabinets, rescued from the Birmingham Central Library, with working hand presses from Leonardt's and British Pens displayed on original benching from the old Brandauer's factory At one end is a collection of working steno machines, type writers and braille machines. I know we have some court reporters amongst our readers, but even after trying a stenographic machine I am none the wiser as to how the output makes sense! You can try your hand at writing with quills or steel pens and also leave some handwriting samples for grapho-analysis.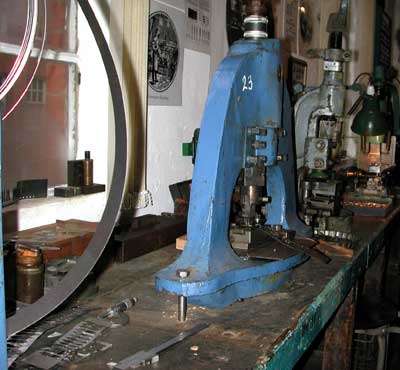 Some of the working nib presses
Every inch of space is literally packed with exhibits from floor to ceiling including examples of the "lots" (containers of the required quantity of output of nibs) produced by the factory workers which would put some modern factories to shame.
While there I met Alexander Crum Ewing, author of "The Fountain Pen - A Collector's Companion" , who has recently moved from Bonhams and Brooks auction house to Gorringes and Pentracer Thierry Nguyen (Terry) from Switzerland.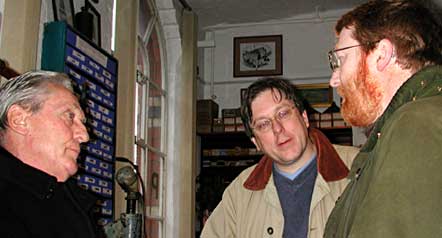 L-R, Alan Hobbs, Martin Richardson and Alexander Crum Ewing
All in all a very interesting day even with flight delays on the way back. Anyone visiting Birmingham should make it a point to visit the Pen Room, you won't be disappointed!
Further information:
The Writing Equipment Society website.
The Birmingham Pen Trade Heritage Association website.